Climate change, Gen-Z, Stakeholder Capitalism – the key themes for Davos 2020
So here we are hurtling towards the end of January and that can only mean one thing – it is time for Davos. Yes the great, the good and Donald Trump descend on the Swiss ski resort next week to take the temperature of global capitalism and work out how to make a better world. I will be in attendance quizzing politicians and business leaders for Hub Culture, speaking in panels and hopefully avoiding snowballs.
Davos is different for everyone.  Whenever I'm getting ready for an interview with a leader I ask them, 'what's your Davos message' because people use this week as a platform for their big idea of the year.  I'll let you know what I come away with afterwards, but here's what's on my mind as I dust off my snowboots and prepare to go up the magic mountain.
1 The emergence of stakeholder capitalism
The organisers of the World Economic Forum (WEF) have already nailed their colours to the mast by defining the theme to be, 'stakeholder capitalism'.
So what is stakeholder capitalism? What it is not is shareholder capitalism – namely profit above all.  For me stakeholder capitalism demands a system that considers everyone – people, companies, governments, and even those that don't have a voice – the ocean and animals. It's about companies being run not just to deliver profits for their shareholders, but to have a positive impact both locally and globally. While delivering profit. I do like Lutfey Siddiqi's recent take – namely that company's actions need to be measured on two levels: proportionality and optionality (See more here.)
We are living in rapidly changing times. The visual apocalypse created by the bushfires in Australia (the subject of next Global GoalsCast) is now being followed by a flurry of announcements by international investors who appear to be joining the stakeholder capitalist team. Blackrock's Larry Fink's annual investment letter announced: 'we are on the edge of a fundamental reshaping of finance.'  They are divesting some of their funds from coal companies – though whether this move is enough – the FT analysis suggests that the move only affects $500m of its overall $1.8 trillion dollar funds – will be a hotly discussed topic next week. Meanwhile, in Australia, while fossil fuel companies are forking out to help relief projects they do fund both main political parties – what happens after the fires die down? 
One vital aspect is that there has to be measurement.  Accurate, comparable data on what actions produce what results.  Currently there is no one way to measure impact. I'll be discussing this very topic – and what to do about it – with Huw Van Steenis of UBS, Alexandra Mousavizadeh of Tortoise, Rose Beaumont of Mastercard and Claudia Romo Edelman at the Equality Lounge next week.
The phrase 'stakeholder capitalism' is an intelligent one – and suggests that the interest we've seen in ESG investing, purpose, impact, inclusion and climate action is gaining traction.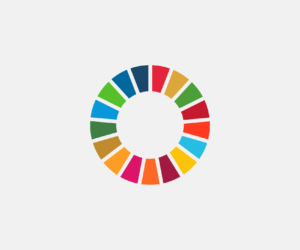 2 Global goals will be everywhere
Don't forget your Global Goal Pin!
As if the esteemed delegates, which includes dignitaries such as Donald Trump, HRH Prince Charles, Finnish PM Sanna Marin, and President of the European Commission Ursula von der Leyen need reminding the UN's global goals will be all over Davos. Three years ago when I asked people what they thought of the SDGs they asked me if I had a transmittable disease. Two temporary HQs are already named, 'Goal 17' and 'Global Goals House' Last year I walked from my apartment down the Promenade counting the mention of global goals. I will do the same again this year and I reckon it could be up three times on 2019. #ForTheGoals
3 Doing it for the kids – Gen Z has its say
It's not an event if you don't have a Gen Z participant.  Youth is the new magic ingredient. It seems like every company and organisation have a Gen Z spokesperson eager to share their views on everything from climate change to universal basic income. And its terrific that the inspiration for many of these A Level apparatchiks, Greta Thunberg, will also be in attendance hopefully haranguing politicians and business leaders with the need for action in her usual style. She won't be the only one though. I am delighted that inclusion means we listen to the young – While it is surely a good thing, as a mother of three Gen Zers Davos does run the risk of becoming a bit of a busman's holiday for me 😉
4 New tech is sexy again – AI is back
The last few years have seen emerging tech like Artificial Intelligence take a bit of a battering. The feeling that its potential to do harm from destroying millions of jobs through to skewing election results might limit its long term use. This year I think people will start to talk more positively about AI, and indeed that other once hugely hyped, but now rather beleaguered technology, blockchain. There was a really good article here which underlines how AI could be harnessed to help companies and governments in their quest to achieve global goals. I wonder if the tech evangelists will be sharing a lot more of this type of thinking with us next week.
5 Climate change – and more climate change
Davos lands at a very interesting time. Not too long after the failure to secure agreement in Madrid at COP 25 and with the Australian bushfires still smouldering, climate change is inevitably going to be the number one topic. Yet there will be a world leaders at the summit, mentioning no names, coughs, Trump, who still haven't connected the dots and deny that there is an issue. In spite of just released figures which show that 2019 was the second warmest year on record.
I recently read a report from Global Risk, which suggested that for the first time in the survey's 10-year outlook, the top five global risks in terms of likelihood are all environmental. The report sounds the alarm on everything from extreme weather and its ramifications for property, infrastructure and loss of human life through to major biodiversity loss and ecosystem collapse (terrestrial or marine) with irreversible consequences for the environment. It is, as you can imagine, pretty grim reading
2020 has been designated as the beginning of the decade of action. The time when the talking has to stop and we have to start making a difference. Yet, sadly, I think there is still a whole lot more talking to do and I expect the clashes at Davos between activists and world leaders to be rather brutal.
For me, climate change is the issue for Davos and indeed the whole decade. I am a passionate believer in the global goals and achieving them. Put frankly though if we don't ameliorate some of the effects of climate change and avoid those worst case scenarios, we can forget ever reaching those global goals. Basic issues of equality will be sidelined as future world leaders have to focus on fighting fires literally and metaphorically, to ensure the survival of our species.
We have made many advances in the last decade most notably on equality, healthcare and poverty. Not enough progress has been made on climate change. I hope Davos provides a springboard for not just words but some meaningful action too.