Four techniques to improve your video conferencing presentation skills
(or, how to Zoom your way through Covid-19)
I'm doing online communication training courses – tailored for people who are doing more online video conference pitches and speeches. To be clear, I have been doing these for years, but for obvious reasons they have become very popular lately.
A typical course last about three hours and has between 1-3 people. I run the whole thing over your new favourite video platform Zoom. But if you favour some different system I am sure I can accommodate you.
No matter whether the course is online or in person people's needs are the same – how to appear human, authentic, interesting and confident while pitching, giving a speech and having a meeting. There are some differences with presenting online and I go through these in a lot more depth in the course.
So to give you a taste of few of the skills you might encounter to expect on a course with me I commandeered my fellow co-isolationsists and got them to illustrate a few of the basics.
1 Stand up!
This tip is illustrated by my photo model / co-worker / husband @cosmolush who swears by this technique as he is pitching via video conference fairly constantly. (As I type, he is standing up, chatting over the computer). This position helps you keep your energy up, your voice in the full vocal range – including the lower notes that add gravitas, and appears confident and comfortable.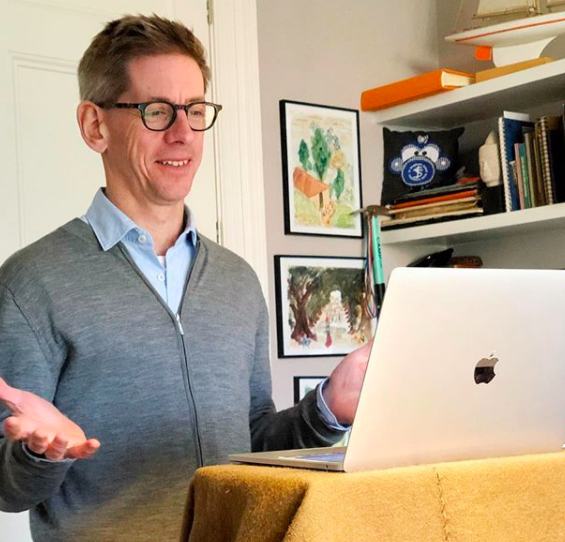 2 Use your hands and emphasise the key words
The second tip, or rather series of tips, features another one of my Covid-19 coworkers, @tabbylush . Tabby gives five top presentation techniques from the book I wrote with Charlotte McDougall for the How To Academy – get it here. Among the tips are how to increase impact by gesturing with your hands and emphasising the key words.
3 Keep watching yourself
The third presentation technique comes from another co-worker @mlush . Filming reveals what you sound and look like, so in order to improve keep doing it. It is such a cliche but practise really does make perfect, especially if you note what you want to improve and focus on addressing those issues.
4 Add a bit of colour
The fourth tip comes from my daughter Amity (@_amity.lush_) If you are presenting something that's a bit dry or technical, try and liven it up with an analogy or example. Most of us are visual learners and these help paint a picture in the audience's head which makes it easier to remember.
I hope you found these useful. If you want to know more about my online training check out this page of my website or drop me a line.